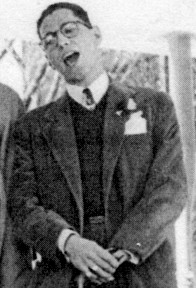 Tom Lehrer in 1951
"Nobody who has interacted with Tom Lehrer is not deeply changed by the experience." Prof. Lewis M. Branscomb, adviser to three U.S. Presidents
One of the ten greatest figures of the 20th Century -- Martin Gilbert, biographer of Winston Churchill
"Tom Lehrer is the greatest satirist who ever lived." -- Mark Russell
"Tom never makes mistakes!" -- Dr. David Z. Robinson, former Vice President and Treasurer of the Carnegie Corporation

"...brilliant and coruscating parodies..." -- Time magazine
"Tom Lehrer is the most brilliant song satirist ever recorded." -- Barry Hansen (aka "Dr. Demento")
Reviews selected by Lehrer for his liner notes:
"More desperate than amusing" -- New York Herald Tribune
"Mr Lehrer's muse (is) not fettered by such inhibiting factors as taste..." -- The New York Times
" Tom Lehrer is the most brilliant creative genius that America has produced in almost 200 years"
-- Tom Lehrer (from the introduction to the album "Tom Lehrer Revisited")
"...the most glorious baritone voice to be heard on an American stage since the memorable concert debut in 1835 of Millard Fillmore"
-- Tom Lehrer (from the introduction to the album "Tom Lehrer Revisited")
"It is sobering to consider that when Mozart was my age he had already been dead for a year." -- Tom Lehrer

Simply put, Tom Lehrer (1928- ) is a true genius. This might be clear from the fact that he earned a Bachelor's in mathematics from Harvard by the age of 18, and a Master's degree by age 19. However, it is even more obvious from his songs. To listen to them is to experience genius in an accessible, yet inimitable way. Plus he invented Jello shots.
At the time of the shows, Lehrer was a graduate student in mathematics at Harvard. He spent several years in graduate school in two stints (split up by time in the army, amongst other things), but he never did complete his dissertation. Nevertheless, he has taught undergraduate math courses at the Harvard Business School, MIT, Wellesley, and U.C. Santa Cruz.
Lehrer has never shied away from controversy, or worried in the least about being politically incorrect. His songs were often in the vanguard of social morality, although he probably doesn't see himself as a social crusader. His song "I Wanna Go Back to Dixie" was released in 1953, mocking southern racism before the civil rights movement really took off. "We Will All Go Together When We Go" (1960), "MLF Lullaby" (1965), "Who's Next" (1965), and "So Long Mom" (1965) dealt with the real dangers of nuclear war and proliferation; these songs inspired and amused those working toward strategic arms limitations. "Send the Marines" (1965) lampoons foreign policy based on a knee-jerk military response. "Pollution" (1965) helped ignite environmentalism.
Many of his songs ("I Hold Your Hand in Mine" is my favorite example) are based on a macabre black humor that has been almost absent from the scene since he stopped recording.
There is a wonderful biography, with many quotes from Lehrer, in the 3-CD set "The Remains of Tom Lehrer" (see below). However, for a brief peek you might check out these online biographies by Jeff Morris or Eric Longley. (Beware that many of the other biographical sketches available online contain factual errors.) A rather definitive discography is available here. Nicely annotated lyrics can be found here.
Tom Lehrer has inspired a deep following, especially among the intelligentsia. I am deeply honored that he has chosen this website as the appropriate place to make public the historic recording of "The Physical Revue".
| | |
| --- | --- |
| If you haven't yet bought Lehrer's 3-CD set, you should. This is the best $45 you'll spend this month. Not only does it include virtually all his songs, all the lyrics, all his wonderful original liner notes, and several songs not available on any other albums, but it also has a great biography (with many quotes from Lehrer) and comic-strip illustrations of two of his songs from Mad Magazine. (Click the image to purchase from Amazon.com.) | |
| However, if you're feeling cheap, you can get many of his best songs by buying the two albums shown at right (click images to purchase from Amazon.com). | |
| Sheet music for almost all of his songs is in this book (click image to purchase from Amazon.com). | |
Return to main page for "The Physical Revue"
Suggest more or better links .. Return to PhysicsSongs.org main page
Background image: Covers for Tom Lehrer's albums