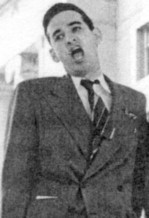 David Z. Robinson in 1951
David Z. Robinson (1927-) played the role of "Chemistry Major" in all three performances. He is credited by Tom Lehrer and the other performers as having the best "institutional memory" about the shows. At the time of the show, he was a research physicist at Baird, Inc., having received his Ph.D. in Chemical Physics from Harvard in 1950.
In 1951, he became Assistant Director of Research at Baird, and worked on development of commercial optical and electronic instruments, as well as research on infrared detection devices. In 1961, he became a staff scientist in the Office of the President's Science Adviser. He dealt with issues involving communications and technology, and with policy and budgets for basic science.
In 1970, he became Vice President of the Carnegie Corporation (a premiere educational and philanthropic foundation); in 1986, he became Executive Vice President and Treasurer.
He has been an advisor to the President's Science Advisory Committee, the National Academy of Sciences, and the National Science Foundation. He has been a member of the Naval Research Advisory Committee, the New York State Energy Research and Development Authority, Governor Cuomo's Advisory Committee on Education, and the Education and the Science and Law Committee of the Bar Association of the City of New York. He has also been a member of the Boards of the City University of New York, the Dalton School, Amideast, the South Africa Education Program, and the Investors Responsibility Research Corporation. He is currently on the Boards of the Actor's Center, and the Institute of Current World Affairs.
He is a Fellow of the Optical Society of America, and a member of the Council on Foreign Relations
(Sections of the above are taken from the biography found on the website for the "Consortium for Science Policy and Outcomes".)
| | |
| --- | --- |
| Dr. Robinson co-edited "Testing Teacher Candidates: The Role of Licensure Tests in Improving Teacher Quality" (click on the cover to purchase from Amazon.com) | |
Return to main page for "The Physical Revue"
Suggest more or better links .. Return to PhysicsSongs.org main page
References: 1 - Harvard University Gazette, June 6, 2002.
Background image: Covers for some of Tom Lehrer's albums